More than 40 years of experience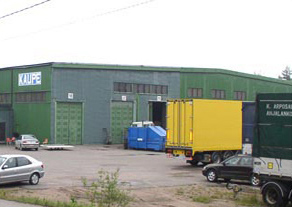 Our know-how of manufacturing trailers derives from more than 40 years of experience, combined with up-to-date knowledge of modern technology. Kaupe was founded in 1977, but its predecessor La-Mi already in the beginning of 1960's. During the years, a wide range of manufacturing skills and huge knowledge of special constructions have accumulated in the organisation. Traditionally, all the main components of our trailers have been manufactured by ourselves.
Always for the customer
Our business idea has always been based on the careful respect of the needs and expectations of the customer. These are taken into account already in the very first phases of the product design and manufacturing process. Each product is designed to fit the intended use in all details, and it is manufactured individually to meet all relevant quality requirements. The functionality of the delivered product is verified by tests and reviews.
Know-how of special constructions
Should you need any special constructions for your trailer, we are ready to help you. Sandwich elements, pneumatically and/or hydraulically controlled chassis frames, tarpaulin constructions etc. -- our know-how includes them all. High-quality materials are used to guarantee that our products will have millions of kilometres ahead.
Respect for the environment
The functionality of our products, as well as their fitness for purpose, are the key to the effectiveness of your transport operations. This results, naturally, in minimal emissions and decreasing environmental load. In addition, we prefer to use recyclable materials in our products as much as possible.